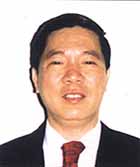 Fellow Collectors:
My interest on El Salvador started in 1992 when I was able to acquire from another Filipino collector a very comprehensive collection of proofs of the 1890 - 1899 Seebeck issues. While in Brazil for the 1993 World Philatelic Exhibition I met Brian Moorehouse, who I later found out to be the best dealer on Latin and South America. Brian gave me a first hand education on El Salvador; it's history and its people. I was immediately attracted to the country even before Brian educated me on its philatelic aspects.
Brazil is a country where the surroundings and beautiful women could literally envelope you but it was El Salvador that romanced me. Perhaps my entry into El Salvador was pre-destined. With Brian's help, I was able to assemble a five-frame exhibit decent enough to win a gold medal at the 1994 Singapore FIAP International Stamp Exhibition.


Those that have exhibited competitively are aware of the great difficulty in expanding a five-frame exhibit to eight frames In my case luck seemed to be with me always as right after the exhibit several important pieces came out in the market.
With two large gold medals in world competition coupled with my postal stationery collection, many of my friends have been telling me that I now have the best collection of El Salvador. Putting up the best collection of is not primary intention on why I am in this hobby. In the case of El Salvador, it just happened. Just like the saying "being at the right place and at the right time."
Philately has given me the extra time and energy that did not seem to exist before. It has greatly expanded my range of knowledge and most important of all, my circle of friends. I became a student of history and culture of the countries that I am collecting.
Of all the benefits that philately has given me, one in particular stand above the rest. It has afforded me, together with my wife Vilma and four children to spend quality time together. We have made it a point, whenever possible, to attend exhibits as a family. Being able to separate myself for a couple of days from the rigors of running a construction business is indeed a luxury. Previously, this was next to impossible. Philately has enabled me to do so.
I sincerely hope you will enjoy viewing the stamps and covers of the first three issues of El Salvador....perhaps with the same intensity of pleasure that I had in collecting them. I must thank Brian for making all this possible.
if you have something to add correct and more so, something to offer for my collection, please do not hesitate to communicate with me.
Thank you very much.
DAVID G. CHIONG
P.O. Box 3, Ozamiz City, Philippines 7200
higrace@ozamiz.com