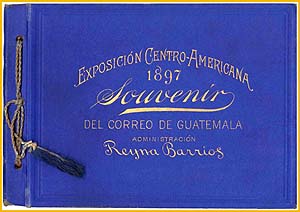 Quite likely sparked by the United States Columbian Exposition of 1893, a Central American Exposition was organized and held in Guatemala City in 1897.
A philatelic memento of this Exposition is a long series of commemorative stamps and postal stationery. These were produced by the American Bank Note Company. Both the stamps and the postal stationery share a common design, prepared by Guatemalan artist, Sr. Manuel Giron.
The common design features two medallions; the left showing the Coat of Arms of Guatemala and the right showing the then President of the country, Sr. Jose Maria Reyna y Barrios. The four corners feature the Coat of Arms of the four Central American Republics: El Salvador, Honduras, Nicaragua, Costa Rica. The design is completed by small inserts of a train and of a ship, plus the value tablets.
With the exception of the 18 centavos stamp and the 12 centavos imprinted envelope; the design, printed in black, appears on various surface tinted color backgrounds applied by lithography. Black designs on the stamps were printed from engraved plates and the black designs on the postal stationery were printed by lithography.
The issue was authorized for use from January 1,1897 to December 31, 1897, but this validity period was extended thru March 1898 by special decree. Previous postal issues were not allowed to be used during the specified period.
Remainders of most of the stamp denominations and all of the postal stationery varieties were sold in April 1898. Varying amounts of some of the stamps and all four of the postal stationery envelopes were surcharged for payment of telegraph fees and for use as telegram envelopes respectively.